Best type of CCTV cameras for your business in Kenya
A closed-circuit television system (CCTV) is an important component of any business security system in Kenya. CCTV cameras can help protect businesses by deterring crime. They can also record valuable footage that can help authorities in the future, should an issue arise. Even the mere presence of CCTV cameras can act as a deterrent, protecting your customers, employees and assets. However, business owners are not always sure which CCTV camera types are best.
Fortunately, the security system professionals at Integrated Access Security can help answer your questions. Our team will meet with you and evaluate your business needs. Then, we can offer you customized solutions to fit your budget.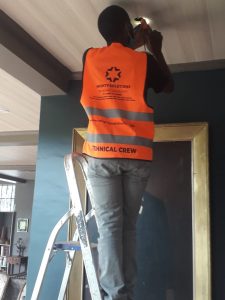 Some CCTV cameras are suitable to be installed inside the house while others are best suited for outdoors such as rooftops, walls and entrance of buildings. Depending on your building or size of coverage, we can advise you on the best CCTV camera to choose from. 
Here is a list of one of the best CCTV cameras to install in Kenya,
Hikvision dome camera
This is one of the best CCTV cameras to install in Kenya. Its clarity is highly rated and can further be improved by connecting it to DVR. In addition to that, this camera has infrared night vision.
General mini wireless hidden camera
It's small and portable with an inbuilt battery that is inbuilt. It is compatible with android and IOS operating systems therefore it can be used on smartphones. It can be placed in hidden places in a room and can secretly record activities without being detected. It also has infrared night vision, motion detection with push alerts and 150 degree coverage.
Hikvision outdoor bullet CCTV camera
This is one of the best outdoor CCTV cameras to install in Kenya. It records both high quality and detailed videos even in the darkness.
Hikvision doorbell camera
This camera activates when a visitor rings the doorbell. It has a two way audio system that you can use to talk to your visitor using the 'ANSWER' button. It can be installed outside since it is both waterproof and dustproof. 
CONCLUSION
These cameras come in different prices in Kenya, though they might look expensive they purchase and installation might be more affordable for businesses as you might assume.
Our professionals can come to your property and evaluate your business needs. We offer customized solutions to help you every step of the way.